It ihas been common to assume that worship or praise of God must come through sacred languages. This may for some be Arabic or Sanskrit, or a myriad of other languages deemed sacred.
One might think that Christianity would be immune to this. In Revelation 7:9
After this I looked, and there before me was a great multitude that no one could count, from every nation, tribe, people and language, standing before the throne and before the Lamb. They were wearing white robes and were holding palm branches in their hands.
That people of every language are there in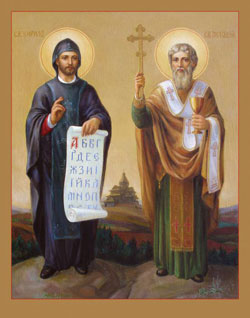 heaven praising God might make one question a single sacred language. Still one could argue that in heaven these people from every language are now only praising with one language… a sacred language.
However, the Bible was written in more than one language (three languages to be exact: Hebrew, Aramaic, and Greek), with subtle variations of language associated with the fact that the Bible was written over a long period of time. That should give people pause as well. But again, it may not convince everyone.
For me, the strongest point is that the defining act of God for evidencing the start of the church age was the gift at Pentecost given to the 120 to praise God and proclaim Jesus in different languages. I am aware that some groups see these "languages: not as languages at all but merely as ecstatic utterances. But even then, if ecstatics can be used to praise God then presumably various languages could as well.
For some people, this is a strawman issue… an issue for Muslims perhaps, and some other religions. But I live in a country that until about 120 years ago, it was not possible to worship God as a Christian, or read God's word in any of the over 100 languages spoken here. 300 years of Christinity here, with worship and Scripture that was only spoken by a selected few. This sounds ridiculous… and yet it is true.
Why is this? Why would Christianity, which is at its very foundation multilingual have developed religious cultures that disconnect the language of worship from the language of the common people? I have to guess that it is clericalism.
I am using the Merriam-Webster definition for clericalism:
a policy of maintaining or increasing the power of a religious hierarchy
Keeping the language of religion in the hands of the clergy (either because of language or because of jargon) keeps ecclesiastical power in the hands of the few. This is not unusual. The medical and legal subcultures are well-known for esoteric language. And they are not alone.
Of course, it may not start out that way. Religious language/jargon changes more slowly than surrounding language, so it may start out as the language of the people, but as the language around changes, the language of religion becomes the language of the few and the trained. One sees this in most of the ancient denominations of Christianity. However, at some point in time, there comes a time where the clergy make a choice— will their faith be expressed in the language of the people or the language of clergy. Most commonly, historically speaking, it is the language of the clergy.
But every now and then… there is a shocking transition. These can include Jerome translating the Bible into (vulgar) Latin… and Martin Luther translating the Bible into German and developing songs of worship in the same language.
One of those times was when Cyril (Constantine) translated Scripture for the Slavic People. A great quote on this is available in a blogpost "Language Worthy of Praising God."