This post makes the, controversial (?), suggestion that Lot lacked cultural flexibility, and that this led to his downfall. If curious, please read on.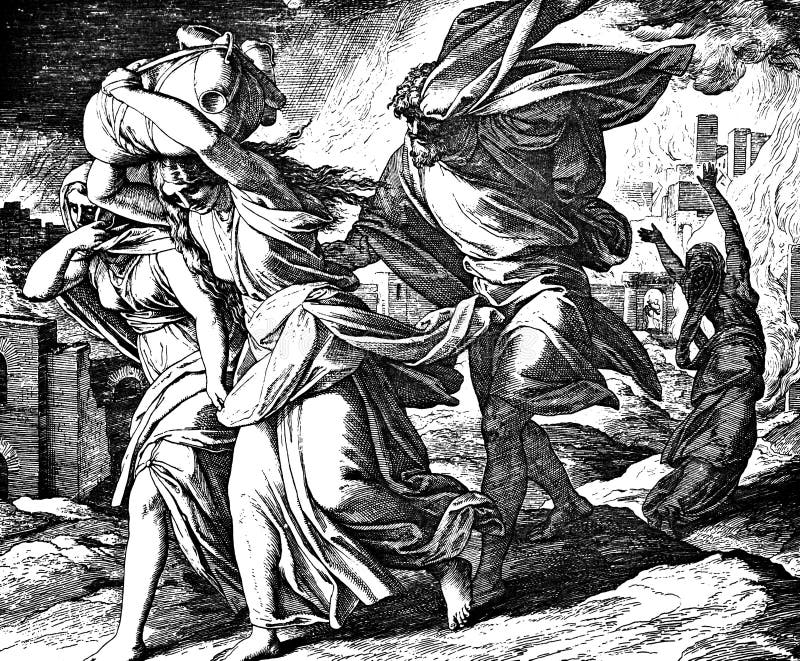 I was teaching a little seminar on Missionary Anthropology in Hong Kong a couple of days ago. I was talking about levels of acculturation— the fact that we often go through stages of adjusting ourselves to new cultures… and we never get to a place where we are comfortable with certain aspects of another culture. One of the students came up afterward and said that in an Intro to Missions class, she was taught that missionaries received a gift to acculturate to other cultures. What was my view on that?
I said that I basically agreed. And I think I can still say that after reflection.  I like to say that there are two major characteristics of a missionary:
Willingness (to go)
(cultural) Flexibility
I often note that a third characteristic of "Spirituality" is a myth. Missionaries rarely have a quality of spirituality that lines up with most Christian's understanding of spirituality. Few are heavily pious or contemplative. And yet, it is quite narrow to limit spirituality to such things. Perhaps, it is wise to add a third characteristic that I could call:
A missionary can recognize God being with her whether being in her home culture, or far from home, whether being well-connected in a supportive community of faith, or spiritual alone— a stranger in a strange land.
Returning, for a moment, to the question above… is there a Missions Gift— a special gift to adapt to other cultures?  Maybe. Some have a gift or talent for language. (I don't care about it being a gift versus a talent… both come from God. Worrying about which is which is a matter of labeling, not of substance.) Maybe some have a gift of cultural adaptation.
I have certainly met those who lack such flexibility— those who are culturally "brittle." Some appear to be unable to see things through any other filter than their own culture. These probably should not be in Missions. Does cultural flexibility come as a gift from God? I don't know. But I would suggest a few things.
First. Cultural flexibility does come, in part, from a personal choice. One commonly must make a conscious effort to bracket one's natural tendency to respond via one's cultural filter.
Second. Cultural flexibility is not an ON versus OFF thing. There is a spectrum. I have gotten stories of people on Short-term Missions who seem to have no capacity (or at least no desire) to learn ANYTHING from another culture. Every other culture "sucks" except their own. I have not met such extreme people in missions… but have found some that come close. These people get angry and frustrated very easily in other cultures. They often see people from other cultures as bigoted, dishonest, and manipulative. Since pretty much all people have those qualities, there is truth to their assessment. But more and more they attach these qualities to people of another culture. Such individuals ultimately either run back to their home culture… or wall themselves off from the culture they are in.
Third. Cultural flexibility is part of an overall process of adaptation to a culture. It continues with some aspects of a culture becoming normalized to the person, while other parts remain foreign for years and years.
Now… Let's talk about Lot
Particularly, let's examine Lot as a person with limited cultural flexibility. This is counter to the normal interpretation of the man. In fact, the more common view is that Lot was TOO flexible, while having too little spiritual resilience. This view may be correct… but I would like to suggest an alternative view.
Lot was described in the New Testament (II Peter 2) as a righteous man. This was also implied in Genesis 19 when God promised to save Sodom if there were 10 righteous men. This number wasn't achieved, and yet Lot was rescued from the city regardless. Both the Old and New Testament suggest that he was righteous.
There are arguments against this. First, his choosing the nicer land for grazing rights over Abraham is seen by some as selfish. While I suppose that is somewhat true, Abraham did give him the choice, with the implication that either choice was acceptable. If Abraham offered for Lot to make a choice, but only one of the choices was moral, then Abraham would be the one at fault more than Lot.  Second, his move toward Sodom is seen metaphorically as a drift to sinfulness. This, of course, could also be true, but this involves considerable reading into the passage. Third, his lack of impact on the community he was in, as well as in his own family, can be seen as evidence of his lack of spirituality. Again this is a possibility, but there are other possibilities.
Let's consider the possibility that Lot lacked cultural flexibility. Cultural flexibility does not mean, moral flexibility— allowing oneself to drift into sinfulness because "everyone else is doing it." Cultural flexibility means able to be a channel of God's light and blessing in a different culture. In essence, it is an adaptation to a culture that allows one to have impact on it while in it.
Consider II Peter 2:7-8. Here Lot is not the main issue, but is used as an example of God's intent and ability to save the righteous from His judgment of evil. Speaking of God, it says:
He rescued Lot, a righteous man distressed by the depraved conduct of the lawless 8(for that righteous man, living among them day after day, was tormented in his righteous soul by the lawless deeds he saw and heard)—
The passage says that he was distressed and tormented. At first this sounds like good behavior of a righteous person. Yet, we don't really find Jesus being described as distressed and tormented by sinful behavior around Him. He seemed more distressed by hypocrisy of "righteous" people, than the behavior of the unrighteous. Paul is described as a bit distressed by the great idolatry he saw in the Greek cities. However, the only time he seemed to be greatly distressed was against those who attempted to worship him. In Athens, a major center of idolatry, he was able to commend the Athenians in their great drive to be religious. Both Jesus and Paul (and Barnabas, and the other apostles) were able to adjust themselves to the culture they were in.
In other words, the description of Lot may not be typify the missionary ideal of spiritual resilience so much as inadequate cultural flexibility. A prophetic role in a sinful community is one of being an agent of change… while still learning to adapt to that culture.
Lot had essentially no impact on the community. This may suggest that he became as morally depraved as they were. But if that was so, why was he described as righteous and bothered intensely by the sinfulness of those around him? While moral failure may be a cause for lack of impact in a community, another reason can be cultural separation. In cultural separation, one holds onto one's own culture too strongly without integration into the broader community. When this happens, the person is encapsulated in the community by his own culture… having an enclave that has little interaction with the broader community except as necessary.
This hypothesis finds support, I believe, in the vignette in Genesis where two angels (messengers of God) come to visit Lot, and some of the men in the community want to rape them. Lot seeks to protect the angels by offering his daughters. At first, this sounds like more on Lot's moral depravity. But think about it for a moment. Sodom wasn't a big city so Lot, a successful man in the community, should have the social capital and relational bonds to dissuade his neighbors. Yet he could not. This suggests that he was socially disconnected from the society within which he resided. His offering of his daughters, whether real in line with extremes of Middle East hospitality, or simply a ploy, points to a man who did not know how to interact with his neighbors. This is in line with a couple of short episodes with Abraham. Abraham, a righteous man and man of influence in his community, fell apart socially in other cultures. At the court of Abimelech and in Egypt, Abraham was so uncomfortable with the settings that he, in essence, protected himself by putting his wife at risk. There are similarities between this and what Lot did.
People who enter a new culture willingly without cultural flexibility will fail. If they lack spiritual resilience, they will fail morally. If, however, they have decent spiritual resilience, they will fail by failing to have an impact in the community. They will be culturally disconnected, distressed by the broader community, and unable to handle the social intricacies of the society. Chances are they will become a lot like Lot.